Hi everyone!
I try to create some custom miniatures, and I'd like to show you my first one: Sylvanas Windrunner

As you can see, I used Elanna and the Anchorite Cristia for my Sylvanas.. The cape and shoulder armor is made of greenstuff.
My next project will be a Worgen warrior, but I got no idea how to build him, since I have no Worgen miniature and have to create him out of pure greenstuff, so tips would be welcome.
Bhrian
The cloak and some arrows on the back are really sweet. I will find some arrows to add for my Sylvanas too. You may want to add some hair for her on two sides of the hood. Also I added the tip of blood elves' bows to make it look like feather on the shoulders for my figure.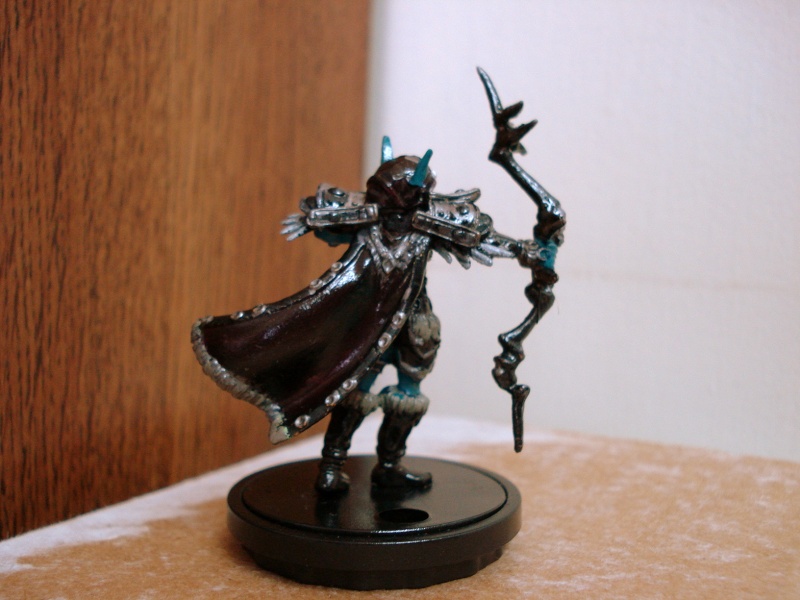 Also there is a worgen figure named Rethilgore. Before Cataclysm, I attempted to make one worgen warrior with Drokkar's shoulder.
Last edited by unpluggamer on Wed Jul 13, 2011 6:15 am; edited 1 time in total
I tried to build the feathers out of greenstuff, so I don't have to destroy my figures. Here in Germany, figures are not as easy and cheap to get as at trollandtoad, so I need to take care of my ones. The hair is a good idea, maybe I'll build some when I start to create the next figure.
Your worgen warrior looks cool, but I have a different posture in mind, so I can't use the mini.
Excellent job! My wife is a huge Sylvannis fan and loved it too.
_________________
WOW Minis - RK2
WOW TCG - RK1
UDE PM - Level 1
2009 Durotar Realms Minis Top 8
I ROLL AT:
http://www.critshappen.com
Admin




Posts

: 63


Join date

: 2010-02-18



Well, at least, I got time to post the photographs of my creations:
First Gavain, the worgen warrior: He is almost completely built out of greenstuff, only the weapons and part of the armor(the spikes

) are from various GW bits(some heads, swords and axes had to die for him) and I used the pauldrons from Elanna.
[img]
[/img]
[img]
[/img]
Out of the spare parts of my Sylvannas I made an elven mage named Loriniel:
[img]
[/img]
[img]
[/img]
She got the head of Elanna, the body of Cristia and I made the fireball out off greenstuff.
My camera tends to skew the pictures, the miniatures got some highlights and shadows in their paintwork.
A figure mainly made out of green stuff, no based figure! Thats a lot of work. I love your idea bout the night elf mage. Any idea about the status of these figures? It would be sweet if they are on the field.
Well, I made some character cards, yesterday I was to lazy to post them, so here they are:

Gavain Silverfang (worgen warrior) -fury
Armor: 3
Resistance: 2
HP: 8
ATK: Titan Grip: 3 tick, range 1, melee 5
Critical: +1 damage. For each diced crit Gavain gets an aditional rage counter.
Rage generation: Whenever Gavain attacks or gets damaged, he gets an additional rage counter.
Heroic leap(Instant): Remove um to 3 rage counter: Gavain may jump that many spaces.
Rampage(Instant): range 1, melee X: Remove X rage counter after this attack.
Critical: Gavain only looses X/2 rage counter.
Honor: 8

Loriniel Magesinger (nightelf mage) - fire
Armor: 1
Resistance: 2
HP: 6
ATK: Fireball: 3 tick, range 3, fire 6
Critical: Add a mana counter to Loriniel.
Mana shield(react): 1 Tick
Remove X mana counter to prevent X damage from Loriniel.
Honor: 6

Both of them are tried in some games and my fellow players and me thought they both fit and are not overpowered. Still, I consider whether Gavain has to become epic because of his 2 instants.
I see, the statuses and ABCs for these characters are quite different from others. They are similar to the legendary guys, for they have there own ABCs, but they are not strong enough to be legendary. To me this is both advantage and disadvantage. These guys need to use their specific ABCs all the time, unless they will not be tough without the ABCs. Anyway, they do seem to fit well and not overpower with other minis.


Similar topics
---
Permissions in this forum:
You
cannot
reply to topics in this forum