Today I got home late and did not have much time to play a full game with my brother. So we tried playing a quick mode, which turned out quite amazing. I was inspired by the comic about Varian and the fight of the gladiators when Varian belongs to the gladiator master Rehgar Earth Fury; what we did is setting up a small map to play as an arena.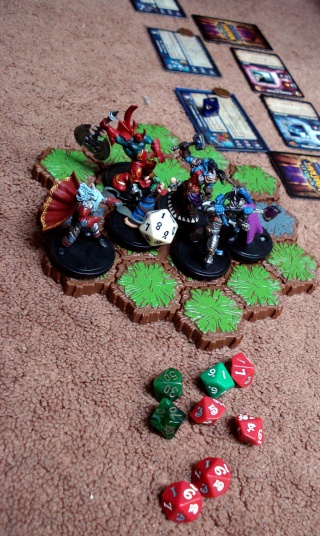 I know the WoW mechanic itself is fast already, but it's fun to me to have a even faster game, so I come up with this mode:
1. Set up:
a. Team leaders always stand in the middle, facing each other.(The Blue spots)
b. Two players alternatively choose the space for other figures. So they can face the one they prefer to fight with.
c. There is one victory area in the center of the arena, to encourage the gladiators to come to the middle spot (so the audiences would have the best view

)
2. Fight:
a. Characters could not be pushed outside the map. ( Cairne would not like to fight like this I guess)
b. If a character (even pet) dies, it will not respawn
c. The honor points gotten from destroying a character is equal to the honor of that character. If the destroyed character is Legendary, then the honor point is 12 instead of 10. (so it would be fair for the weaker and easy-die team)
3. How to win: Two ways:
a. Destroy all the enemies.
b. Get honor point equal to the point of the team (usually happen, since we do have the victory point in the middle)
The game goes fast and ironic as the comic's and I enjoy that taste. My first thought is this mode may not fit for some characters, then I found a simple answer: because they are not born for being a gladiator

Last edited by unpluggamer on Fri Aug 13, 2010 2:35 pm; edited 3 times in total
Thinking again it may be better if we expand the sides of the arena to 5 hexagons; it is still an arena.
I like this idea a lot. What did you use to make the board? If you made it a tiny bit bigger you could add pillars to block line of sight like in nagrand arena. Or you could put a fountain in the middle like the ruins of lordaeron.
So I was looking at the pictures of your arena and your idea to expand it a bit. I think that would be a good idea because you could prevent first turn hunter or caster blitzkrieg tactics.

Without respawns, the first kill decides the game quite a bit. There's no room to play defensively or anything to block line of sight, so if you're on the losing end of a 3v2 you're kind of screwed.
I still like this idea a lot, but something like conqueror aluna with multishot could almost break the whole format.

Good thinking though! I like the concept a whole bunch!
Yea as I said, this is just an additional mode, may be for younger players (like my brother, he does not like to think intensively for a long time), and it does fit more for strongly surival character, plus the idea when one is dead, the other team has more advantage and there is no way to hide but fight for your life. They are all built for the feature of a fight of gladiators.
It would be interesting to me to see some strong characters turning out weak in the arena

I will try it soon with the new arena having 5 hexagons side. I used heroclix tiles for the play ground (they are sold a lot on Ebay, cheap, flexible and durable) .
Lol. Imagine a fluxed cairne bloodhoof with blessing of might cleaving 2 thirds of the opposing team off the board in 1 turn.
Haha, how could I forget about him

; ok the rule is changed, characters coul not be pushed outside the map. I makes sense too because the arena is surrounded by wall, for it is a coliseum.
Thanks so much for your found!
So of course my gears are still turning on this lol. Imagine this:

Varimathras
- doom
- healing potion

Zomm hopeslayer x 2
- sap x 2
- sprint x 2
- evasion x 2

I came up with this team a while ago for regular play and it does ok. Definitely ok for a vari team. I'm thinking on the small arena map it would be extra deadly.

Probably on turn two you could sprint in with both zomms and sap. Same turn have vari doom the character that isn't sapped. Focus fire the doomed guy down, hopefully dealing 2 damage to each of the sapped guys.

The zomms one tick attacks keep them healed up from vari's aura and could easily heal through one of his crits. If you crit with vari's main attack that would be four damage on the sapped guys before you're even focusing on taking them down.

Anyways, it's just an idea.
In hindsight, the worst thing about this team is that varimathras takes up the entire board lol

That team is really deadly, especially in Arena when we just need all of enemies dead to win . But how about a defensive team against that team:
Vindicator Hodoon
Cleanse
Hammer of Justice
Bolvar Fordragon
Bolvar's Retribution
Crusader Aura (to approach Varimathras)
Vigor
Cat Form
Rejuvenation
I would say hopefully this team can make your team bored. With the heavy armor, it might be hard for rogue to express themselves. Also if they can do some things or break the armor, healing and cleanse will be helpful. But to be honest, I am also not a defensive player and still prefer to use your team.
Also your idea helps me realize a team with big names can kill off a small team easily, so may be we should cut them into two leagues: honor below 20 and honor above 20, or even another league having honor above 25 (just like UFC

)
of course the two team of two leagues still can fight together if the smaller team wants.

I suppose you could switch out the evasions for expose armors to deal with high armor wall teams. I mainly had the evasions in to give the fragile zomms some survivability.

Lol we could go back and forth with answers to teams for days!

---
Permissions in this forum:
You
cannot
reply to topics in this forum